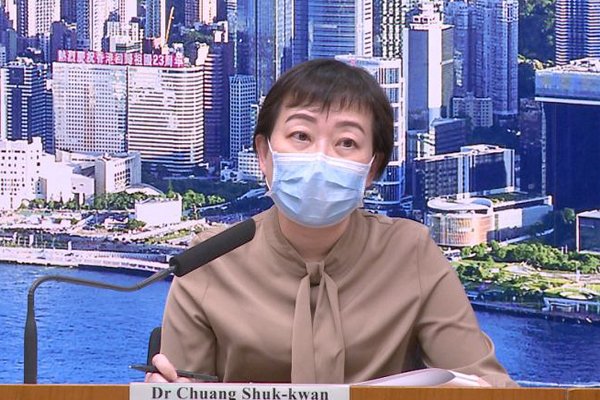 (To watch the full press briefing with sign language interpretation, click here.)
The Centre for Health Protection today said it is investigating 12 additional COVID-19 cases, of which three are locally transmitted and nine are imported.
Of the nine imported cases, five are foreign domestic helpers who flew to Hong Kong from the Philippines on the same plane.
Speaking at a press briefing this afternoon, Centre for Health Protection Communicable Disease Branch Head Dr Chuang Shuk-kwan said: "We have five additional COVID-19 cases involving Filipino domestic helpers coming from Manila on the same flight.
"From our preliminary investigation, I understand that their travel was arranged by the same agency and I think most of them lived together in a hostel provided by the agency in Manila.
"So, if there was any silent transmission, it may have occurred in the hostel and that led to them being detected on arrival in Hong Kong."
Dr Chuang also provided details about two of the local cases and explained that one was detected via the Universal Community Testing Programme and the other is related to the Metropark Hotel Mongkok cluster.
One of the patients is a 56-year-old woman who works at the Victoria Harbour Restaurant of Metropark Hotel Mongkok and the other is a 71-year-old woman who lives in Hong Sing Garden in Tseung Kwan O.
Dr Chaung emphasised that the case involving the restaurant staff is not related to the hotel cluster as the hotel guests who tested positive for COVID-19 had not patronised the restaurant during their stay.
For information and health advice on COVID-19, visit the Government's dedicated webpage.