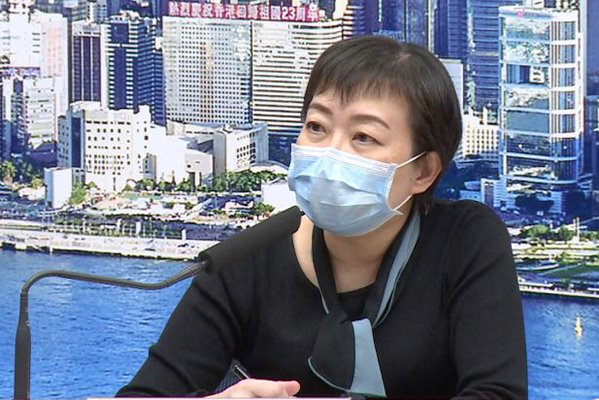 (To watch the full press briefing with sign language interpretation, click here.)
The Centre for Health Protection today said it is investigating 12 additional COVID-19 cases, of which seven are locally transmitted and five are imported.
Two local cases are related to previous ones, while the source of infection of five cases remains unknown.
The centre's Communicable Disease Branch Head Dr Chuang Shuk-kwan said at a press briefing this afternoon that among the cases with unknown sources of infection, four have been detected through the Universal Community Testing Programme, while another case involves a clerical worker at a supermarket in a West Kowloon mall.
Dr Chuang also noted that there is a newly confirmed case relating to the Metropark Hotel Mongkok cluster, taking the number of confirmed cases in the hotel to three.
The patient stayed in the same room as the 87-year-old male hotel guest listed earlier as a confirmed COVID-19 case.
Noting that a guest in another room on the same floor has preliminarily tested positive for the virus, Dr Chuang said room guests and hotel workers on the same floor will be put under quarantine.
"For the hotel concerned in Mong Kok, we will consider all the residents on the same floor as close contacts, so around nine or 10 rooms will be evacuated because the other rooms are not occupied. And also those workers who have worked on that floor will be put under quarantine. So maybe around 20 or so people will need to be quarantined."
She added that the centre will give out sample bottles to all the other guests and workers in the hotel for virus testing.
Additionally, the Hospital Authority reported that 261 confirmed COVID-19 patients are currently hospitalised and 4,456 confirmed and suspected patients have been discharged.
For information and health advice on COVID-19, visit the Government's dedicated webpage.