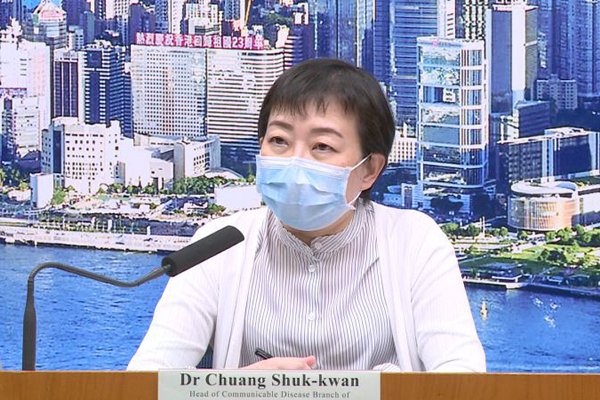 (To watch the full press briefing with sign language interpretation, click here.)
The Centre for Health Protection today said it is investigating 12 additional COVID-19 cases, taking the number of confirmed cases in Hong Kong to 4,822.
Among the new cases, nine are locally transmitted and three are imported.
Eight local cases are related to previous ones, while the source of infection in one case remains unknown.
The centre's Communicable Disease Branch Head Dr Chuang Shuk-kwan said at a press briefing this afternoon that the case of unknown infection source involves a construction worker and explained why his colleagues will have to be quarantined.
"The 64-year-old man, who is a construction worker, worked at a construction site at the Discovery Bay's Discovery College.
"I understand from his wife and also his colleagues that at the working environment they had to remove some concrete from the site and they worked together for around four days.
"They did not share meals, but the ventilation at the construction site was not very good and their work was quite intensive. So we consider the other workers at that construction site as close contacts."
Additionally, the Hospital Authority reported that 313 confirmed COVID-19 patients are currently hospitalised and 4,380 confirmed and suspected patients have been discharged.
For information and health advice on COVID-19, visit the Government's dedicated webpage.