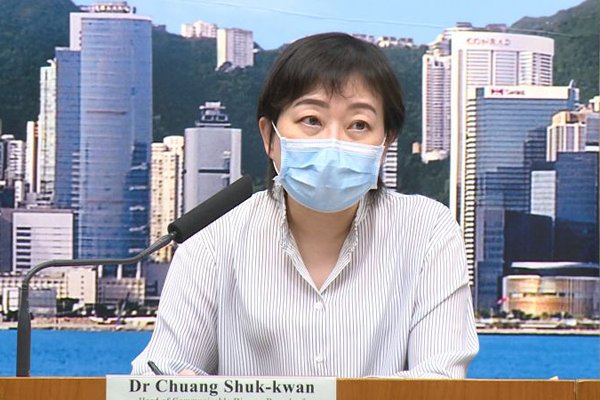 (To watch the full press briefing with sign language interpretation, click here.)
The Centre for Health Protection today said it is investigating 18 additional COVID-19 cases, of which 17 are locally transmitted.
Of the local cases, 12 are related to previous ones and five are those with unknown sources of infection.
The centre explained that it registered three more COVID-19 cases linked to the Kwai Chung Container Terminal cluster. The patients are staff of Wang Kee Port Operation Services Limited.
While updating the media on the progress of testing workers at the terminal for the virus, the centre's Communicable Disease Branch Head Dr Chuang Shuk-kwan stated that 6,500 sample collection bottles have been distributed so far.
She said: "We have given around 8,000 specimen bottles for collecting saliva samples to the operators of the Kwai Chung Container Terminal. They told us that they have distributed 6,500 bottles to the workers."
Dr Chuang added that more than half of the specimens collected have been tested.
"I understand that 3,700 specimens have been tested already. So there are some bottles that have been handed in to the laboratory, maybe 1,000 or so. I do not have the exact figure because they are handing them in continuously. Those specimens will be or are currently being tested."
While the number of cases reported today is less than the previous days, Dr Chuang explained that the drop may be related to a tropical storm, as fewer people might have returned their specimens for testing.
For information and health advice on COVID-19, visit the Government's dedicated webpage.