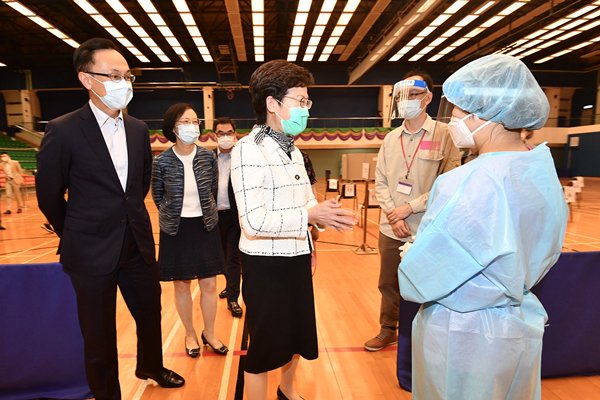 Chief Executive Carrie Lam visited the community testing centre at Lai Chi Kok Park Sports Centre this evening to inspect its operation on the first day of the Universal Community Testing Programme and to give encouragement to the staff.
Mrs Lam was briefed by a staff member on the centre's manpower deployment, centre design and workflow.
She was pleased to note that the centre operated smoothly and conducted tests for more than 1,000 people today. She also spoke to a citizen who was satisfied with the programme's arrangements.
Mrs Lam said that the Government decided to increase the test quota for the public to make appointments after reviewing the programme's operation today. She hoped the public could make good use of the programme and sign up for tests proactively.
She noted that the programme can help identify asymptomatic patients in the community and curb the epidemic early, enabling the resumption of economic activities and social lives which people have longed for.
The testing process is safe, convenient and quick while privacy is protected, the Chief Executive added.