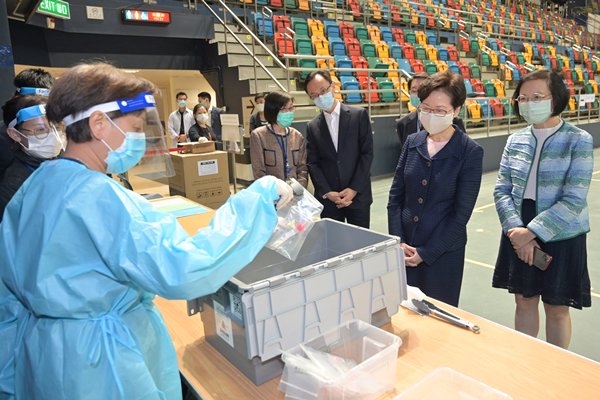 Chief Executive Carrie Lam visited community testing centres at Wong Nai Chung Sports Centre and Queen Elizabeth Stadium this evening to learn more about the operation of the Universal Community Testing Programme.
Mrs Lam first visited the community testing centre at Wong Nai Chung Sports Centre. She was briefed by the Hong Kong Sanatorium & Hospital's Medical Superintendent Dr Walton Li on the testing centre's operation.
Mrs Lam was pleased to note that the hospital has formed a healthcare team with more than 200 members in response to the Government's call to help with specimen collection for the public.
She then toured the community testing centre at Queen Elizabeth Stadium and gave encouragement to the healthcare workers and staff there.
Mrs Lam also chatted with members of the public who underwent tests and added that she was glad to hear that they were satisfied with the programme's arrangement.
The Chief Executive emphasised that the programme is identifying asymptomatic patients, thereby helping Hong Kong get through the epidemic early.