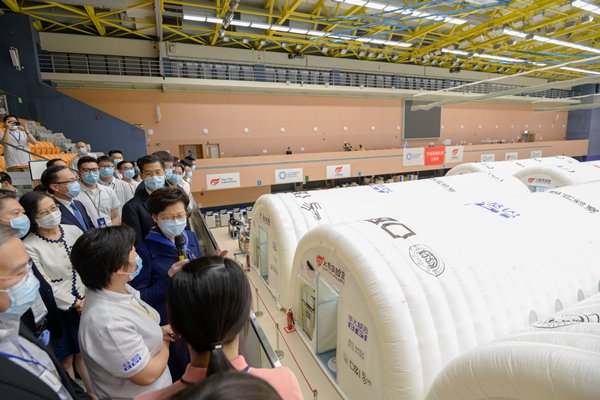 Chief Executive Carrie Lam today visited the temporary air-inflated laboratories at Sun Yat Sen Memorial Park Sports Centre and encouraged the Mainland nucleic acid test support team working there.
She said people who took part in the Universal Community Testing Programme were very satisfied with the programme arrangements.
The Chief Executive pointed out that with the support team's efforts, all samples delivered to the laboratories every day can be tested on the same day.
"Their dedicated work day and night are essential to enable members of the public to obtain their testing results as soon as possible after their specimens have been taken.
"On behalf of Hong Kong citizens, I would like to express my heartfelt gratitude to them."
The Government has extended the testing programme for three days to September 14.
"I appeal to members of the public, especially employers and employees who will resume work soon, as well as teachers and students who are going back to school, to seize the opportunity to take part in the programme to protect the health of themselves and others."