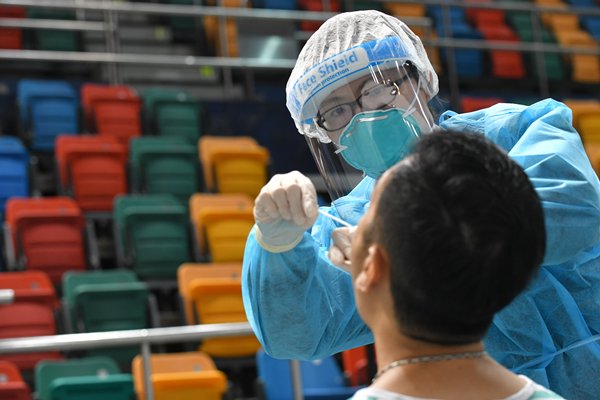 (To watch the full media session with sign language interpretation, click here.)
Chief Executive Carrie Lam today urged the public to participate in the Universal Community Testing Programme as it will enable the Government to identify those infected with COVID-19 in the community and allow citizens to return to normal life as soon as possible.
Ahead of the Executive Council meeting this morning, Mrs Lam said the programme aims to prevent asymptomatic patients from spreading the virus in the community.
"This is a service made available to the people of Hong Kong who want to have this test.
"It is also a service that enables us to identify the remaining infected cases in the community so that we could return to normal as soon as possible."
She added that no target has been set for the number of participants.
"The Government does not have a quantifiable target to start with, but my appeal has always been to encourage as many citizens to come forward for themselves, their loved ones, relatives and also co-workers in various settings because we have seen from statistics that about one quarter of the confirmed cases were without symptoms.
"I do not think it has anything to do with the Government's popularity, but it does have something to do with people who – either because they do not understand the details of the programme, the procedures, or the safeguards that we have put in place – try to cause worries and fears among the people so that they will have less confidence in coming forward."
The Chief Executive also hopes those who have taken the test can show other citizens that the specimen collection procedure is a safe, simple and straightforward process which will contribute to the city's anti-epidemic efforts.