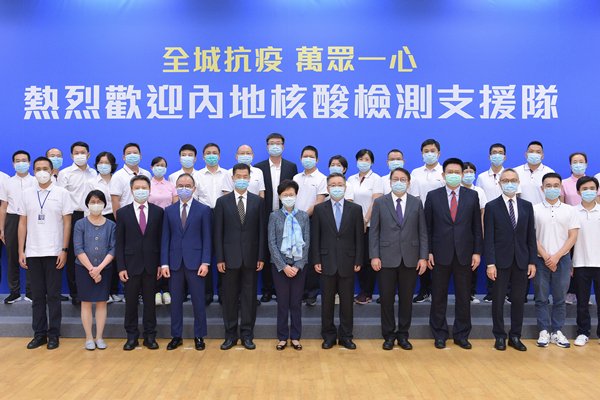 Chief Executive Carrie Lam today attended a ceremony at Sun Yat Sen Memorial Park Sports Centre to welcome the arrival of the Mainland nucleic acid test support team.
Mrs Lam extended a warm welcome to the support team's chief leader, Deputy Director of the National Health Commission's Medical Administration Bureau Li Dachuan, who led more than 160 team members to Hong Kong this morning.
Addressing the ceremony, Mrs Lam expressed gratitude to the central government for setting up a support team quickly and providing the equipment and resources to enhance Hong Kong's testing capability in a short period, enabling the launch of the large-scale Universal Community Testing Programme.
Mrs Lam said: "Since Hong Kong was presented with a new wave of the COVID-19 epidemic comprising mainly local cases in early July, the central government has attached great importance to the epidemic situation of Hong Kong.
"It cares about the safety and health of the Hong Kong people and has given a clear and positive response to the specific requests made by the Hong Kong Special Administrative Region Government."
Currently, more than 220 support team members are in the city to prepare for the launch of the community testing programme on September 1.
After the ceremony, Mrs Lam inspected the temporary air-inflated laboratories in the sports centre and learnt about the facilities, testing procedures and the workflow.
Sunrise Diagnostic Centre, a joint venture with BGI set up in Hong Kong, is working with the support team in the setting up and operation of the 16 laboratories in the sports centre.
Mrs Lam said she was pleased to note that the laboratories are ready to support large-scale testing after about two weeks of preparation.
Meanwhile, she pointed out there are still confirmed COVID-19 cases daily and a proportion of them are those with unknown sources of infection, suggesting the existence of silent transmission chains in the community.
She appealed to members of the public to participate in the programme, which can help to identify asymptomatic patients and further curb the epidemic.
The testing is safe, convenient and speedy with full protection of privacy, she added.