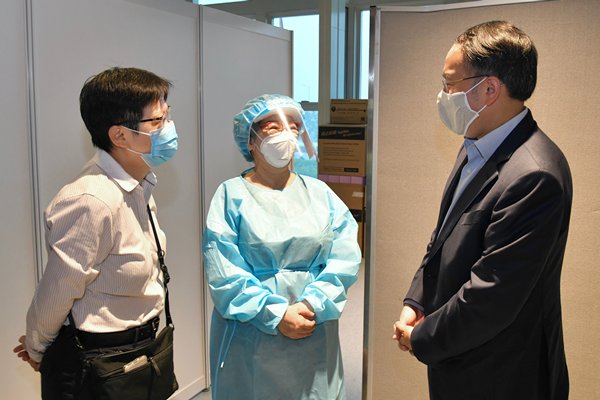 Secretary for Financial Services & the Treasury Christopher Hui today visited the community testing centre at City Hall to learn about its operation as the Universal Community Testing Programme begins its extended period.
Mr Hui was briefed on the centre's workflow and manpower allocation as well as the infection control and social distancing measures implemented.
He also chatted with the staff and thanked them for their participation in the programme to fight the virus together with the community.
The programme has been extended for four days to September 11.
Mr Hui said the programme could help Hong Kong further curb the COVID-19 epidemic and better prepare for the situations that might arise, in turn enabling people's lives and social and economic activities to return to normal gradually.
He urged the public to take the opportunity to participate in the programme, adding that the various community testing centres will continue to provide voluntary testing for all citizens as far as possible.