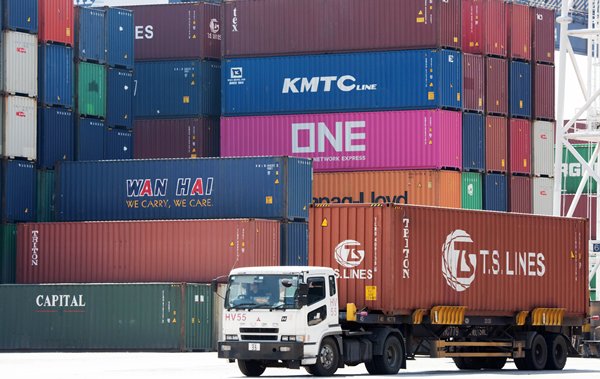 (To watch the full press briefing with sign language interpretation, click here.)
The Centre for Health Protection today said there are 34 new confirmed COVID-19 cases linked to the cluster at the Kwai Chung Container Terminal, of which 33 patients work for the same company.
The centre's Communicable Disease Branch Head Dr Chuang Shuk-kwan told reporters at a press briefing this afternoon that as of today, 55 people working at the container terminal were confirmed to have contracted the virus. Among them, 41 are staff of the Wang Kee Port Operation Services Limited.
She explained that the resting room at the company concerned may have contributed to the spread of the virus.
"They have a resting room with some beds, toilets, and showers, and workers share those facilities and sometimes sleep there to rest overnight. So, it is just like a hostel or a big family (area where) people share items and sleep in the same place.
"So, that (arrangement) will contribute to the transmission (of COVID-19) because it is just like transmission within a family. If you share items, stay together and live together, then the chance of transmission is very high."
She added that it is also plausible that some infected workers may have spread the virus by coming into contact with workers from other companies that operate at the container terminal. 
"It is possible that the workers in Wang Kee Operation Services Limited may come in come into contact with workers from different companies during work. But, they said that while they are working they usually wear a mask and usually do not (take it off).
"So, the chance of transmission may be higher when they take off their masks during rest (time), having lunch, breakfast or showers, etc."
Dr Chuang said in addition to sending more than 100 employees of the company concerned for quarantine, COVID-19 testing is underway after at least 10 companies reported confirmed cases among their staff.
Meanwhile, the centre is investigating another confirmed case which involved an Indonesian domestic helper who lived in Cheung Hing Mansion in Mong Kok last month.
Some other confirmed cases involving domestic helpers were recorded earlier concerning a hostel on another floor of the building.
"For the Cheung Hing Mansion, because we are not sure how many such hostels (are) in those buildings, we will try to distribute (specimen) bottles (for collecting saliva samples) to try to test all the residents there in one go.
"And, of course, we will try to ask the owner whether he has other similar places and whether we can trace the other helpers who have stayed at his place."
Including the above cases, the centre reported that there are a total of 74 new COVID-19 cases, of which 70 are locally transmitted.
Among the local cases, 50 are linked to previous ones while 20 are those with unknown sources of infection.
For information and health advice on COVID-19, visit the Government's dedicated webpage.