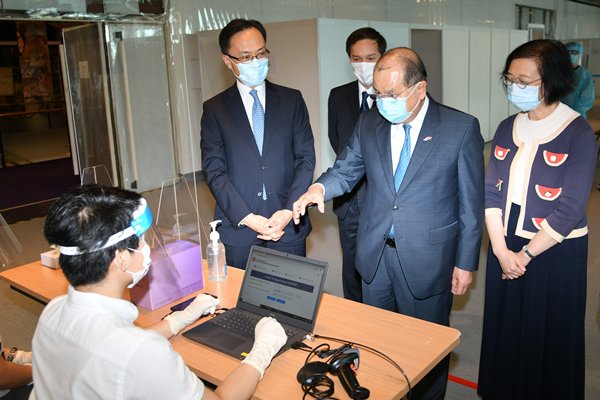 Chief Secretary Matthew Cheung today visited the Community Testing Centre at City Hall to inspect its readiness for the Universal Community Testing Programme.
The Government will launch the programme on September 1 to provide a one-off free testing service for the public at 141 community testing centres.
As of 2pm, more than 526,000 people have registered to be tested.
At City Hall, Mr Cheung was briefed by Secretary for the Civil Service Patrick Nip on the centre's design, which comprises areas for registration, waiting, and specimen collection, as well as its workflow.
He was also briefed by Secretary for Food & Health Prof Sophia Chan about the implementation of infection control measures at the testing centre, as well as the provision of protective equipment to personnel working there.
Mr Cheung also learnt about the transportation of the specimens from the testing centres to the laboratory as well as the design of collection boxes installed with an electronic tracking device.
Currently, more than 6,000 healthcare personnel have enrolled to participate in the testing programme. About 4,000 government staff members from 75 bureaus and departments will also take up administrative support and management duties at the centres.
Mr Cheung said the centres are designed to ensure that testing will be safe, convenient and quick with full protection of personal privacy.
"The third wave of the epidemic has lasted for eight weeks. Although the epidemic has subsided recently, the proportion of cases with unknown sources remains high.
"The more people that participate in the programme, the higher the chances of identifying asymptomatic COVID-19 patients in the community and achieving the target of early isolation and early treatment."
Mr Cheung added that this would help break the invisible transmission chain in the community and contain the spread of the epidemic so that social and economic activities can return to normal.
He also said that members of the public should take great care to thoughtfully consider the news on the testing programme and refer to information from the Government if in doubt.