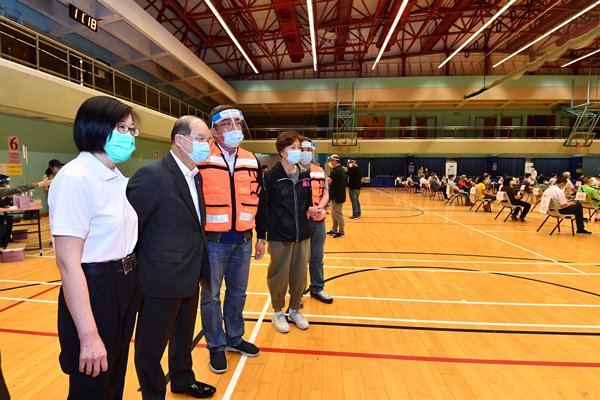 Chief Secretary Matthew Cheung today visited the community testing centre at Sheung Wan Sports Centre to inspect its operation and give encouragement to the staff.
After being briefed on the manpower allocation and design of the community testing centre, he examined the testing workflow.
The Government launched the Universal Community Testing Programme on September 1 to provide a one-off free testing service for the public at 141 community testing centres.
Mr Cheung said he was pleased to see that over 900,000 people had made appointments for the testing service from August 29 to 11am this morning and added that the centre's design and workflow have been drawn up in accordance with infection control and social distancing measures.
He also expressed thanks to the Auxiliary Medical Service (AMS) representatives, healthcare personnel and other staff at the centre who provided services on-site, noting that their support is indispensable in the Government's anti-epidemic work.
The AMS arranged four doctors, 25 nurses and 30 volunteer members with related training to collect samples from participants at four of the testing centres each day.
The Chief Secretary appealed to the public to actively participate in the programme, stressing that the more people participate, the higher the chances of identifying asymptomatic COVID-19 patients in the community for early isolation and treatment.
That will help break the transmission chains in the community so that social and economic activities can resume gradually and people's daily lives can return to normal, he added.