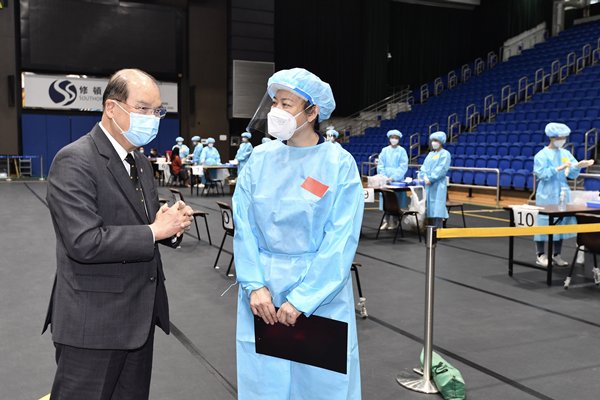 Chief Secretary Matthew Cheung today visited community testing centres in Wan Chai, North Point and Wong Chuk Hang to inspect the operation of the Universal Community Testing Programme and give encouragement to those working there.
At the Southorn Stadium community testing centre, Mr Cheung was pleased to note that St Paul's Hospital has formed a healthcare team of more than 50 members to help with specimen collection there.
Mr Cheung then proceeded to the community testing centre at Java Road Sports Centre, which is run by a 64-strong team from the Polytechnic University School of Nursing.
He then visited the community testing centre at Wong Chuk Hang Sports Centre, where Mr Cheung met the 21-member team from Gleneagles Hospital Hong Kong, which manages the centre.
Mr Cheung said he is grateful for the full support of different sectors, including serving and retired civil servants as well as healthcare personnel.
He said their efforts have contributed to the smooth operation of the testing programme since it began on September 1.
The programme has been extended to September 11. Mr Cheung urged members of the public to make testing appointments immediately to help identify asymptomatic carriers in the community so that virus transmission chains can be cut.