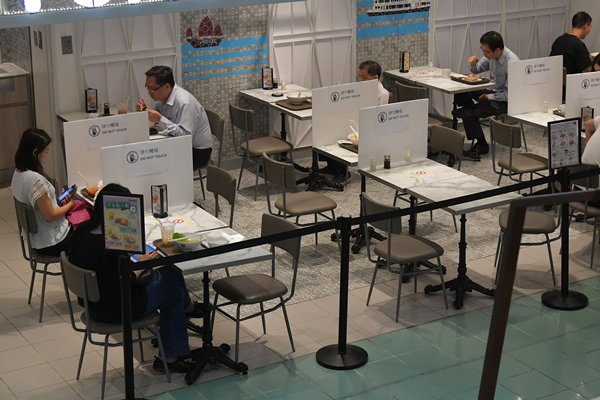 The Food & Environmental Hygiene Department today provided updated guidelines on the provision of dine-in services to licensees and operators of food premises in light of the latest COVID-19 public health risk assessment.
The guidelines provide a practical framework and recommendations for taking measures to keep workers, customers and the public safe.
Under the Prevention & Control of Disease (Requirements & Directions) (Business & Premises) Regulation, The Secretary for Food & Health has issued the latest directions through notices that will take effect from August 28 to September 3 to allow catering businesses to provide dine-in services from 5am to 8.59pm.
The provision of these services is subject to specific requirements, including the arrangement of tables in a way to ensure a distance of at least 1.5m or some form of partition to act as a buffer between tables.
The FEHD recommends that partitions should be made of acrylic plastic or equivalent with a thickness of at least 3mm. Its height should be at least above the head level of customers when seated. Partitions should preferably be enclosed on three sides, leaving only the side where a customer is seated open.
It also recommends that staff who set tables and serve food and drinks should be separate from those who collect used utensils and clean used tables. If this is not practicable, the staff concerned should wash hands, use hand sanitisers or change gloves after each round of these tasks.
Sanitisers should also be placed at each table, while all utensils must be stored and covered properly. Utensils should not be placed at a table on a long-term basis, and should only be provided after each batch of customers is seated.
Areas such as doorknobs, tabletops and seats should be cleaned and disinfected regularly. This also applies to trolleys, trays and utensils. All food trays, in particular the rims of trays and utensils, must be thoroughly cleaned and disinfected every time after use.
No sharing of tables with strangers should be allowed and each set of ordered food should be served to the customers individually.
Regarding ventilation, the cleaning, checking and repairing of all parts of ventilation systems, including exhaust air outlets, filters, fresh air inlets and air ducts should be strengthened.
To support the catering sector in the fight against COVID-19, the FEHD is making arrangements to send licensed food premises face masks.
The FEHD has also produced posters and audio clips for the trade to remind customers to strictly comply with the requirement to wear a mask except when eating or drinking.
Click here for the guidelines.