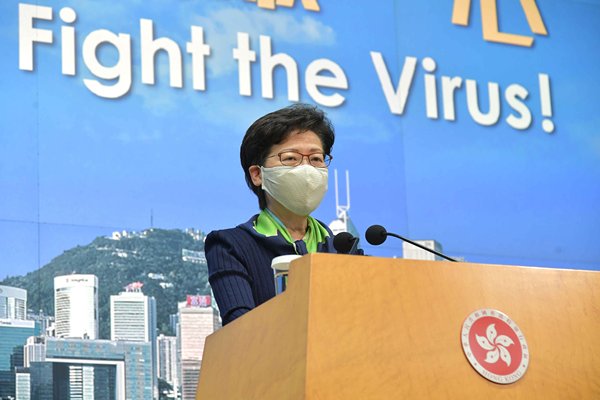 (To watch the full media session with sign language interpretation, click here.)
Chief Executive Carrie Lam today said the COVID-19 epidemic situation is still very severe in Hong Kong and that it is not the time to relax social distancing measures.
Ahead of the Executive Council meeting this morning, Mrs Lam told reporters that the Government has not seen a downward trend yet.
She said: "Yes, the number of cases has reduced to two digits instead of three digits half a month ago, but the number is still fluctuating from one day to another."
Mrs Lam noted that some worrying clusters have emerged.
"One is at the container port involving maybe thousands of workers. The other is in the dorms resided in by foreign domestic helpers when they are changing jobs while in Hong Kong."
She also pointed out the Government's virus testing has not been comprehensive or fast enough.
"With these factors, it is simply not possible to do significant relaxation. Also, by the same token, it would be very difficult for me, as the Chief Executive, to give you a plan on when the epidemic will go away. I don't think any leaders of any governments – including the World Health Organization – could do that sort of projection.
"In fact, the more common way of saying it: until an effective vaccine is discovered, produced and widely applied, we probably will have to live with this virus for a pretty long time under what we call a new normal circumstance."