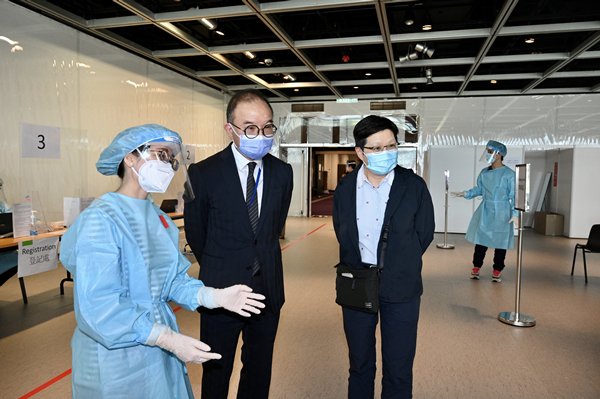 Secretary for Constitutional & Mainland Affairs Erick Tsang today visited the community testing centre at City Hall to learn about its operation and to show support for medical staff and others working there.
Mr Tsang was briefed by personnel of the Federation of Medical Societies of Hong Kong, which is in charge of the centre's operation, on the venue's setup and testing workflow.
He expressed his sincere gratitude to the federation's medical team for staying committed to its work and providing professional specimen-taking services for the public since the Universal Community Testing Programme began.
Mr Tsang was pleased to know the centre has implemented effective infection control and social distancing measures to ensure that the testing process is safe, speedy and convenient.
The community testing centre at City Hall is one of the 57 that will continue to provide the testing service until September 14.
Mr Tsang appealed to the public to make appointments for testing as soon as possible in order to identify and cut the silent virus transmission chains in the community, so that Hong Kong can step away from the epidemic and normal daily lives and economic activities can gradually resume.