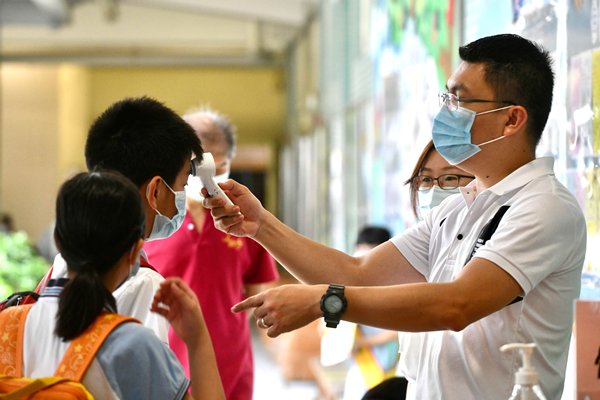 (To watch the full press briefing with sign language interpretation, click here.)
Secretary for Education Kevin Yeung today announced that schools will resume face-to-face lessons on a half-day basis in two phases from September 23.
Speaking to reporters this afternoon, Mr Yeung pointed out that the epidemic has recently subsided.
Secondary 1, 5 and 6 and Primary 1, 5 and 6, as well as Kindergarten 3, will resume face-to-face classes on September 23, while the remaining classes will resume on September 29.
International and special schools will broadly follow the same timetable, he added.
Mr Yeung said the Government has taken into account a variety of factors in making the arrangements.
"We always have to balance between the health of the students and the education needs of the students. And after the class resumption in May and June this year, we are confident that schools are able to carry on teaching and learning at schools safely.
"This time we decided to allow the face-to-face lessons covering the whole spectrum of students from kindergartens to senior secondary schools. That of course will require the co-operation between the schools, the parents and students."
Mr Yeung pointed out that even kindergarten students should learn how to protect themselves from the virus. 
"We believe that kindergartens will also help them to develop their ability to look after themselves, for example, some basic measures such as how to properly wear a mask, washing hands and even drinking water.
"All these can be taught at kindergartens and help them develop very good habits of maintaining a healthy lifestyle."