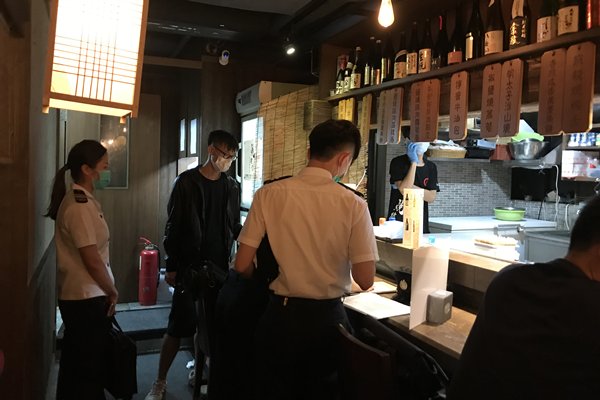 The Food & Environmental Hygiene Department (FEHD) and Police today stepped up inspections and took enforcement action at catering business premises including bars and upstairs restaurants in Wan Chai District.
They inspected 10 catering business premises and initiated prosecution procedures against the operators of an upstairs food premises on Tang Lung Street and an upstairs bar on Jaffe Road for selling or supplying food or drink for consumption on the premises outside permitted hours, staff not wearing a mask, the number of customers exceeding half of its normal seating capacity and the distance between tables being less than 1.5m.
Additionally, Police issued fixed penalty notices to 87 customers in the upstairs bar for violating the regulation on group gatherings.
The FEHD said it will continue to step up inspections at food premises across the city and conduct joint operations with Police to ensure that food business operators, food handlers and the public strictly comply with the directions under the relevant regulation.
Enforcement action will be taken against offenders to minimise the risk of COVID-19 transmission in catering business premises.
It also appealed to food business operators and food handlers to comply with the regulation to keep workers, customers and the public safe.