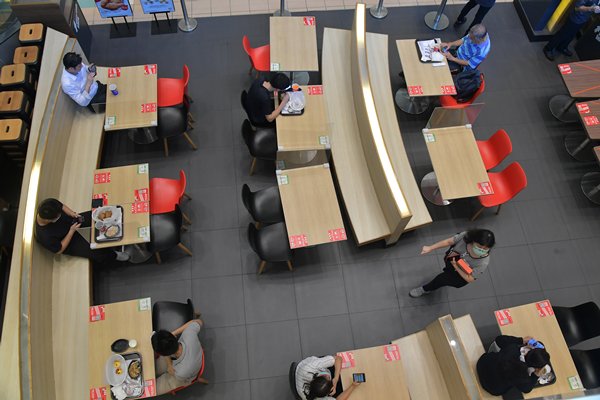 The Government today gazetted directions and specifications, to take effect from August 28 to September 3, under three regulations to relax social distancing measures in a gradual and orderly manner.
The regulations are the Prevention & Control of Disease (Requirements & Directions) (Business & Premises) Regulation (Cap 599F), the Prevention & Control of Disease (Prohibition on Group Gathering) Regulation (Cap 599G) and the Prevention & Control of Disease (Wearing of Mask) Regulation (Cap 599I).
The Government said it will, having regard to the epidemic situation's latest development and risk assessment, relax social distancing measures under a refined and sophisticated approach to allow social and economic activities to resume.
The first phase of relaxation would include re-opening indoor premises for passive activities where the risk is relatively easy to manage as well as outdoor sports premises for activities involving little physical contact.
For catering businesses, no dining-in services are allowed from 9pm to 4.59am of the subsequent day, save for specific premises. The premises concerned may still sell or supply food or drinks for takeaway services and deliveries.
The number of customers must not exceed 50% of their normal seating capacity. No more than two people may be seated together at one table.
The tables must be arranged in a way to ensure there is a distance of at least 1.5m or be with partitions that could serve as effective buffers.
Other requirements and restrictions, including wearing a mask at all times within any catering premises except when the person is consuming food or drink, would remain in effect.
Live performance and dancing must not be allowed in any catering premises. All karaoke and mahjong-tin kau activities at any catering premises must also be suspended. Bars and pubs must be closed.
Cinemas, beauty parlours and some of the outdoor sports premises for activities involving little physical contact may be open subject to relevant requirements and restrictions.
For club-houses, save for catering premises, cinema, beauty parlour and the above-mentioned outdoor sports premises in the club-house, all other premises and facilities must be closed.
All other scheduled premises under Cap 599F are required to suspend operation.
Unless exempted, the ban on group gatherings of more than two people in public places will continue during the seven days.
Additionally, the Secretary for Food & Health will publish a notice in the gazette to specify all public places for the purpose of the mandatory mask-wearing requirement under Cap 599I, save for outdoor public places in country parks and special areas as defined in the Country Parks Ordinance.
The Government appealed to members of the public to wear masks in public places, especially when they are on board a public transport carrier or staying in crowded places, as well as stay vigilant and maintain personal and environmental hygiene.