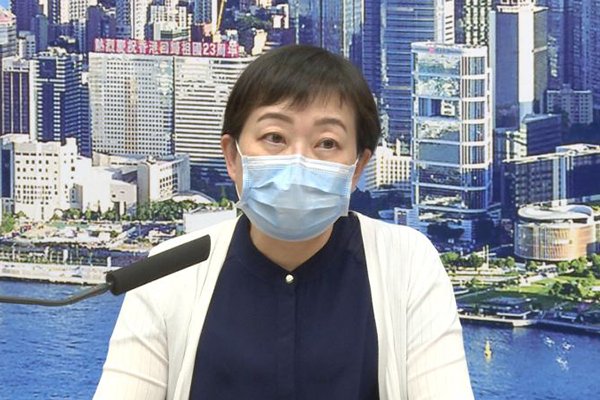 (To watch the full press briefing with sign language interpretation, click here.)
The Centre for Health Protection today said it is investigating six additional COVID-19 cases, five of which are locally acquired.
Of the local cases, four are linked to previous ones and one was detected through the Universal Community Testing Programme.
The centre's Communicable Disease Branch Head Dr Chuang Shuk-kwan reported at a press briefing this afternoon that so far, 19 cases have been identified through the programme.
"Including the case detected today there are 19 new cases detected through the Universal Community Testing Programme.
"The more we can detect the more we can prevent a secondary spread of the disease, because any one of them can, you can see that some of the cases can cause some spread in the community.
"So if we can detect as many as possible, it will help to control the spread of the disease in Hong Kong."
Of the four remaining local cases, two are relatives of workers at the Transport City Building in Tai Wai while two were confirmed to be infected while staying at quarantine facilities.
Additionally, the Hospital Authority reported that 212 confirmed COVID-19 patients are currently hospitalised and 4,557 confirmed and suspected patients have been discharged.
For information and health advice on COVID-19, visit the Government's dedicated webpage.