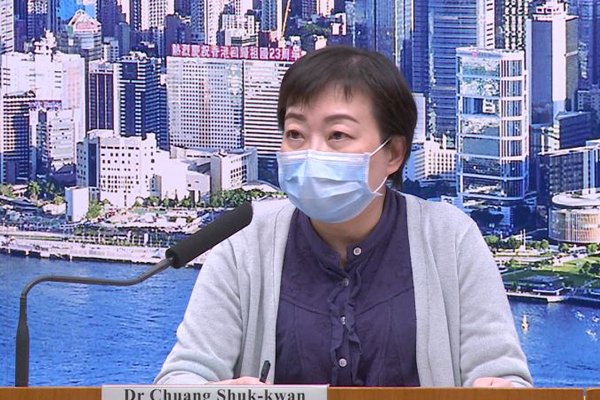 (To watch the full press briefing with sign language interpretation, click here.)
The Centre for Health Protection (CHP) today said it is discussing with the Security Bureau arranging COVID-19 tests for all persons in custody after a detainee and an inmate were confirmed to have contracted the virus.
The centre's Communicable Disease Branch Head Dr Chuang Shuk-kwan made the announcement at a press briefing this afternoon, noting that deep throat saliva tests will be arranged for the more than 7,000 inmates in all institutions.
Concerning one of the cases involving a detainee transferred from Pik Uk Prison to Castle Peak Bay Immigration Centre (CIC), Dr Chuang said he may have caught the virus either at the prison or Lai Chi Kok Reception Centre as he had stayed in both. He had also worked at the prison's laundry complex. 
"I think (the detainee) might have got infected in Pik Uk Prison or even at Lai Chi Kok Reception Centre, it depends. Because he was asymptomatic we cannot determine when he became infected.
"But I do not think the laundry is the source. Usually it is (transmitted) from human to human, so there may be a silent transmission in Pik Uk or Lai Chi Kok. We have to test all the inmates as well as the staff to see whether there are any linked cases."
She added that some of the inmates who had close contact with the patient will have to be quarantined on site.
"For the CIC close contacts, they have been sent to the quarantine centre. For those other prisoners they have to be quarantined on site.
"If there is not enough space, we have been discussing with the Security Bureau and the Correctional Services Department to maybe find a nearby prison to quarantine them, because it is not appropriate to quarantine them in a normal quarantine centre. They have to be quarantined in a prison."
Including this case and another inmate, the CHP is investigating a total of 21 new COVID-19 cases.
Among them, 15 are locally transmitted while six are imported.
Of the local cases, eight are related to previous ones and the remaining seven are those with unknown sources of infection.
Dr Chuang noted that it is too early to determine whether there is an increasing trend in infections.
"We have 21 cases today and five of them were (detected through) the Universal Community Testing Programme, so that explains a few, but not all the cases.
"But we do have some fluctuation day by day in the number of cases, so we have to observe for a few days more to see whether there is an increasing trend or not."
For information and health advice on COVID-19, visit the Government's dedicated webpage.