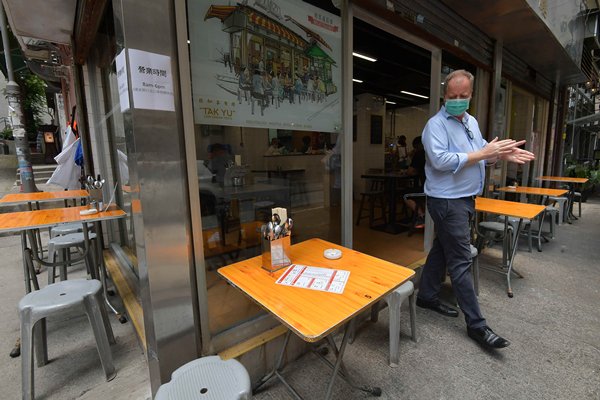 (To watch the full media session with sign language interpretation, click here.)
Chief Executive Carrie Lam today announced the Government will launch a new round of Anti-epidemic Fund to help sectors affected by COVID-19.
Ahead of the Executive Council meeting this morning, Mrs Lam told reporters that many industries have been affected by social distancing measures.
"Many industries are hard hit by this epidemic – especially those providing hospitality, catering, tourism and personal services – because of the social distancing measures and, of course, the 16,000 eatery outlets in Hong Kong are amongst the hardest hit sectors.
"That's why in the Anti-epidemic fund (AEF) 1.0 and 2.0, we always have an action item for the catering industry and this has been welcomed by the sector when the particular measures were introduced."
Mrs Lam said the Government has started preparing for the third round of the fund.
"We will engage the sector and try to come up with measures to provide them with more relief, so that we could all preserve our capacity and wait for the economy to come back."
She noted that on the last two occasions, the Government took about three weeks from the announcement to the funding approval by the Legislative Council Finance Committee.
"I understand that the LegCo President and the Chairman of the House Committee have decided to convene a special meeting of the House Committee on August 28 to discuss our anti-epidemic work. That will be about 10 days from now, so hopefully we will be able to present some proposals for discussion and thereafter take the case to the Finance Committee for approval."