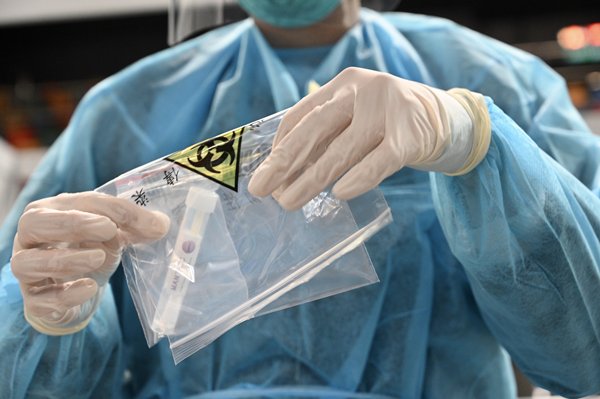 The Government today said the temporary testing centres in Wan Chai and Kwai Tsing have collected specimens from 1,844 people for COVID-19 nucleic acid testing as at 8pm.
Specimens from 619 people were collected at Wan Chai Temporary Testing Centre while the specimens of 707 people were taken at Kwai Tsing Temporary Testing Centre.
As ‪at 10pm, a total of 518 specimens collected under the temporary community testing arrangement had been tested.
Specimens tested with a positive COVID-19 result will be referred to the Department of Health's Public Health Laboratory Services Branch for a confirmatory test. Confirmed cases will be followed up and announced by the Centre for Health Protection.
In view of the worsening epidemic situation in Hong Kong, the Government decided to set up temporary testing centres in Wan Chai, Kwai Tsing, Kowloon City and Yau Tsim Mong Districts, which are related to recent community outbreak clusters.
The Wan Chai and Kwai Tsing temporary testing centres commenced operation on October 10 and today while the Kowloon City and Yau Tsim Mong centres will open on October 12.
All four temporary testing centres will be open daily from 8am to 1.30pm and ‪2.30pm to 8pm until October 14 tentatively to provide free specimen collection and testing service to facilitate proactive testing of the public in order to identify COVID-19 cases and asymptomatic patients as early as possible and cut transmission chains in the community.
Additionally, over 3,000 specimen collection packs were distributed on the first day of extended distribution time at the 46 Hospital Authority general outpatient clinics.
Since ‪July 27, the clinics have distributed more than 63,000 specimen collection packs. Among them, over 38,000 specimens were tested and over 60 were positive for COVID-19.
Regarding the second round of testing services provided to frontline staff of catering businesses by the Food & Environmental Hygiene Department under the Targeted Group Testing Scheme, up to October 10, more than 12,000 specimen bottles have been distributed to catering premises and over 3,800 specimens have been tested.
The department has arranged a testing agency to deliver specimen bottles at bar areas for three consecutive nights from October 9 to encourage personnel in bars and pubs and their patrons to undergo the voluntary testing.
A total of 1,286 specimen bottles were distributed in the past two nights, of which 991 were distributed to staff members and 295 were distributed to patrons.