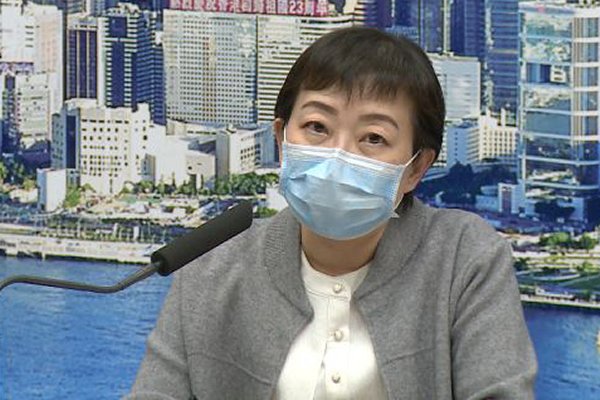 (To watch the full press briefing with sign language interpretation, click here.)
The Centre for Health Protection today said it is investigating six additional COVID-19 cases, half of which are locally acquired.
Of the local cases, two are related to previous ones and one is from an unknown source of infection.
At a press briefing this afternoon, the centre's Communicable Disease Branch Head Dr Chuang Shuk-kwan said one of the cases is linked to the Transport City Building in Tai Wai.
The patient, a cleaner at the building, was sent to a quarantine centre after the building's management office reported an infection case earlier.
"The cleaner works on all floors of the Transport City Building in Tai Wai. Her last day of work was September 5 and she was sent to the quarantine centre on September 6.
"She is asymptomatic. I think there is a risk because we do not know when she got the disease, but according to our existing protocol, the risk of her transmitting the disease to other people since September 5 is not high.
"We do not know whether anything happened before she was admitted to the quarantine centre, so that is why we will test all the tenants of the whole building.
"We gave out more than 400 deep throat saliva specimen bottles for them to test and we will collect them in these two days."
Additionally, the Hospital Authority reported that 220 confirmed COVID-19 patients are currently hospitalised and 4,543 confirmed and suspected patients have been discharged.
For information and health advice on COVID-19, visit the Government's dedicated webpage.