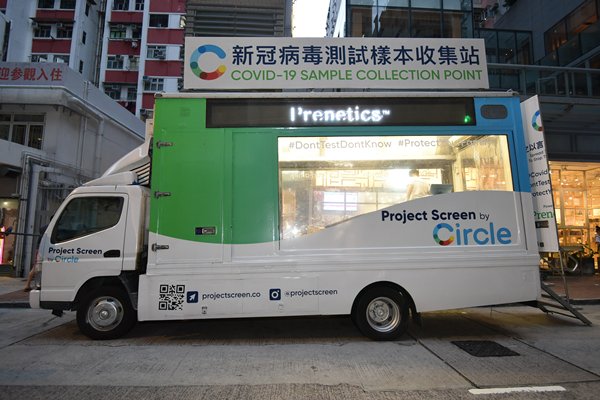 The Food & Environmental Hygiene Department announced that it has arranged for a testing agency to deliver specimen bottles at bar areas to encourage bar staff and patrons to undergo voluntary COVID-19 testing.
Testing agency Prenetics delivered specimen bottles at the bar area in Kennedy Town this evening and mobile vans assisting in the process were parked in the vicinity of Davis Street. 
Specimen bottles will also be delivered at bar areas in Prince Edward and Soho this weekend.
The testing agency will be responsible for the provision of a one-stop service covering specimen taking and testing.
It will deliver specimen bottles to personnel in bars and pubs for collecting deep throat saliva samples, then collect the samples in the subsequent one to two days for testing.
The agency will also deliver specimen bottles to bar and pub patrons interested in taking the test.
Those who take the test can return their specimen bottles to the mobile collection van parked at Hoi Chak Street in Quarry Bay from 9am to 5pm between October 17 and 19.
Cases with positive results will be relayed to the Centre for Health Protection for follow-up. 
The testing agency delivered over 2,100 specimen bottles at bar areas in Lan Kwai Fong, Tsim Sha Tsui and Wan Chai last weekend.
The department urged personnel in bars and pubs to actively participate in the testing scheme and comply with the directions made under the relevant regulation, as well as remind their customers to comply with the regulation requirements.